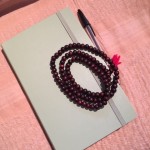 Every morning heart and habit take me to a chair in my study where I can relax and simply be with whatever is arising in the moment. It's a time of peace and opening, even or maybe especially when my mind is roiled by problems it thinks it needs to solve. Once the candles on my altar have been lit and I've taken a few slow easy deep breaths, I am usually able to sink into just being there. A large cup of nettle leaf tea, a string of prayer beads, and my journal are my only companions.
Sometimes my body hurts with one or another of its myriad stresses and strains. I've learned that if I move a little and stretch before sitting down, I can find relief and balance. Sitting becomes easier then. It's my very own morning yoga, a series of movements from my dance training, physical therapy exercises, and a bit of study of yogic asanas. I do what feels right in the moment and what I have learned works well for my muscles and joints. Added to this is the awareness that the sun is rising into a new day.
A central practice for me is what I've come to call meditative writing. It's a form of journal writing and is always a part of my morning practice. I write in a medium sized notebook with blank pages (no lines). It's a well-made bound book, the kind ostensibly used by Ernest Hemingway and other famous writers. I love the feel of it, and the unlined pages give me the freedom to record whatever comes to me in whatever way I like.
I note the day, date, and time. If it happens to be the birthday of someone close to me, I note that and send them a silent wish for happiness. If I'm engaged with a formal mantra sadhana, I note the number of the day of that. There's a flow to it all and to any writing that follows. Any subject, thought, or feeling is eligible for the page. I've learned not to edit or censor what comes, but simply to write it down. Even if it's upsetting. Even if I'm not sure what it means. Even if it seems like it doesn't make a lot of sense.
Meditative writing gives voice to an intuitive stream of consciousness, a heart stream if you will. It isn't served by the rational, analytic side of my brain. It comes from more of a whole body brain, the place that occasionally produces songs and poems. The intuitive stream of consciousness is in touch with timeless realms of existence. It is actively receptive and open, which allows it to form questions and receive answers that might not otherwise be accessible. It advises gently and wisely and occasionally firmly. It opens to a deep joy of being, even when it makes me cry.
Pauses occur where I am dropped more deeply into meditation. Breath slows or asserts itself boldly; there are fewer thoughts. I've learned to go with the flow of this, letting go into nothingness, relaxing and resting, letting the natural rhythm of the stream guide my mind. Eventually I "come back" to the sitting and the writing. Or, I sense that I'm done for that time and I get up and go on with my day.
In these challenging times, it's easy to feel scattered, ungrounded, disconnected, and overwhelmed. A morning practice strengthens and aligns you from within and can have a powerful corrective impact on your state of mind and ability to function. It can empower you in surprising ways and increase your effectiveness in the world. Some of how that happens is a little mysterious, but that makes it all the more intriguing and even fun. I heartily recommend you give it a try.