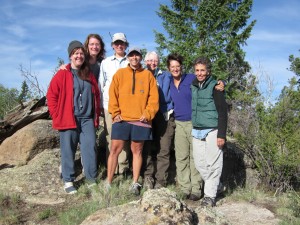 A Vision Quest is a rite of passage, a way of seeking and finding meaningful connection   with the earth and source of life. In North America, it is an ancient practice of native peoples. Our Vision Quest is an 8 or 9 day wilderness camping trip with a 3-day/3-night solo. It is an application of the principles of the traditional vision quest for women in modern western society who are seeking their own healing, life purpose, and spiritual connection. It is not a traditional native vision quest, though we incorporate the wisdom of ancient teachings.
One or two preparatory meetings are held ahead of the time of the trip. During these gatherings participants get to know the Quest guide and one another, clarify their issues and intentions, and review information about supplies and other logistics.
On the first day of the Quest we carpool to a wilderness area. We establish a basecamp there. The next two days are filled with story circles, music, and structured time on the land. The circles provide each person with support to feel strong and clear about facing the challenges of her solo time. On the morning of the fourth day, each person leaves the basecamp and goes to her chosen place to remain in solitude for three days and three nights. The solo is a contemplative time that includes an optional fast (with water). The Quest guides remain in basecamp offering physical and spiritual support as needed.
Upon returning from her solo, each woman is welcomed back and respectfully asked to share the story of her time of solitude. We mirror each person's story, and help each person identify what she learned and what she will bring back to her life in society.
Click here for an overview of Women's Wilderness Quests.
Click here for Quest Schedule & Fees