Linda Weber, M.A. – Boulder, Colorado
Psychotherapy and spiritual counseling ⚛ EMDR for trauma
Women's Wilderness Quests ⚛ Retreats & workshops
Community education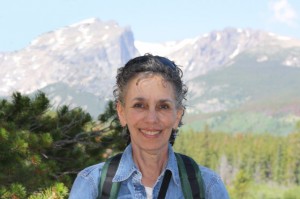 Private Practice 1986 to present
ŸPsychotherapist and counselor for adults and older adults, and specializing in women's lives
ŸTrauma therapist (EMDR) and crisis counselor
Quest guide (vision quest – day quest – sacred walks in nature)
ŸFacilitator of circles and workshops
Trainer and consultant
Flood Relief – fall and winter 2013-2014
Disaster relief interventionist for Mental Health Partners drop in flood help centers – crisis counseling and community resources
Women's Health Work 1970 to 1987
ŸOne of the founders of and Director of Counseling at the Boulder Valley Women's Health Center 1973 to 1987
Coordination and development of the women's health counseling program, including pregnancy decision and abortion counseling; training and supervision of counselors; medical assisting to physicians; patient and community education
Abortion counselor at the Center for Reproductive and Sexual Health in New York City, 1970 to 1972
Writing and Publishing
ŸLife Choices: The Teachings of Abortion (Sentient Publications 2011)
Blog at http://www.earthskycounseling.com/linda-blog/
Articles and interviews since book publication
ŸThe Feminist Networker (community newsletter) as part of the Women's Institute of Boulder, 1990-2000
Ÿ"Teenage Abortion Need Not Be A Tragedy," with Roger Wade – pamphlet for H.S. counselors, 1975
Ÿ"Abortion Counseling at the Boulder Valley Clinic." Frontiers, Vol. I, No. 2, 1976
ŸUp From Under (pre-Ms. feminist magazine) – articles and editorials, 1970-1972
Education and Training
Masters degree in psychology and women's studies from Vermont College of Norwich University, 1990
EMDR level I and II, 1992
Continuing Education and Training
Spiritual development studies (the essential self) with David LaChapelle 1985-2009
Dying as a Rite of Passage with Meredith Little and Scott Eberle at the School of Lost Borders, 2005 and 2008
The Four Shields of Human Nature; Coyote, with Steven Foster and Meredith Little at the School of Lost Borders (1999 and 2000)
ŸThe Way of Council with Gigi Coyle and Jack Zimmerman, 1999
Shamanic journeying with the Foundation for Shamanic Studies, 2000
Music
ŸSongwriter and performer of folk music and sacred chant
Singer with Sound Circle, a women's a cappella ensemble, 1994-2009
Ÿ"Mother Moon," recorded on Sound Circle CD by Sound Circle
Ÿ"Silence of Our Dreams," recorded on Finding the Flow CD by Sound Circle
Awards
Boulder Daily Camera Pacesetter Award 2012
Medal of Honor, Veteran Feminists of America 2008
Additional Interests
ŸVolunteer naturalist with Boulder County Parks and Open Space, 2009 to present
Dance and movement
Presentations and Consulting
"A Harsh Reality: Lessons Learned in Providing Mental Healthcare during Colorado's Many Traumatic Events" – panel presentation for the annual conference of the Colorado Psychological Association, September 2014.
"Honoring The Work We Do" – presentation for Planned Parenthood of the Rocky Mountains regional abortion clinic managers conference, May 2012
ŸMentor for independent study B.A. student from Prescott College, 2011
Ÿ"Seeing Ourselves Through the Eyes of Nature," seminar for the Sierra Club, 2000
ŸConsultant to counselors at Boulder Valley Women's Health Center monthly meetings, 1992-1993
ŸLife skills course for Project Self-Sufficiency, Boulder County Housing Authority, four times a year, 1991-1996
ŸTrainer in sexuality and crisis counseling for community agencies and health departments, 1974-1987
ŸGuest speaker about crisis pregnancy and abortion to over twenty-five area high schools and universities, 1974-1987
Ÿ"What Do We Mean By Counseling?" presentation to annual meting of the National Abortion Federation, 1980
Ÿ"Counseling Male Partners of Abortion Patients," presentation to annual meeting of National Abortion Fed. 1979
⚛   ⚛   ⚛
PHOTO CREDITS for this website: The photo of the Columbine flower on the Women's Wilderness Quests page and the one of the rainbow on the Writing & Music page were taken by David LaChapelle. The one of me on this page was snapped by my daughter, Anne. The rest of the photos are mine.
QUOTATION ON THE HOME PAGE: "The spirit of nature answers the questions of the heart" is from The Four Shields by Steven Foster and Meredith Little.